Christmas Events and Services 2015….
A

demonstration of food and opportunity to buy kitchen gadgets with a Christian guest speaker, Lindsay Ferguson from a church in Liverpool. Thursday 3 December, 7.30pm @ The Burley Hall, Waverton. Tickets £3.50 (includes a glass of wine and mince pies) available from Julia Beauchamp (336668), Gilly Edwards or Waverton Post Office.
The Nativity
20th December (Sunday)
10.15am in church. Sunday Club bringing the Nativity story to us.
CAROL SINGING ROUND THE VILLAGE.
14th December (Monday)
Meet at 6pm at 2 Common Lane (opposite school) to sing favourite carols round the village. All welcome to join us! Approx 45 min finishing with hot drink.
'Nine Lesson and Carols'
20th December (Sunday)
6.30pm in church. A traditional service of lessons and carols.
Crib Service
Christmas Eve, 24th December (Thursday)
4.00pm in church building the stable scene, especially suited for families.
Midnight Communion Service
Christmas Eve
11.30pm in church.
Christmas Day Service
Family Communion
10am in church, celebrating Christ's birth and the meaning of Christmas (nb the time! 10.00 o'clock)
Thank you to everyone who made the Christmas Fair last Friday such a good time. We raised between us over £1400.
A big "Thank You" to everyone who made the Garden Party such a great success. To those who organised it and gave their time to serving, and also to everyone who came. Wonderfully it was dry throughout the evening (and even some sunshine!) and we raised £1097 for the Helen Keller School in Jerusalem. Jules
Rectory Garden Party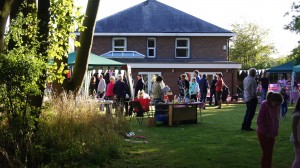 All welcome to join us for a (hopefully) warm summer evening, with music, refreshments, BBQ, stalls, tombola, bouncy castle, games for children.
Time: 6pm-9pm(ish)
Venue: The Rectory, Village Road
Entrance: £1 for adults, children free.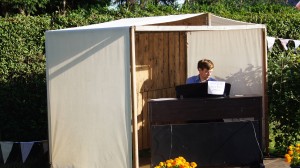 Easter

Maundy Thursday
6.30pm Holy Communion at Rowton Methodist Church
Good Friday
10.00am Families Craft Morning at the Burley Hall
12.00pm Procession of the Cross round Waverton Village (with readings, prayers and hymns)
2.00pm Good Friday Meditations at St. Peter's Church
Easter Sunday
9.00am Holy Communion
10.15am All-Age Family Communion Service
LENT ADDRESSES 2015
We all know that "God is love", but what does this love look like? What is the proof of God's love? What defines it? How can I know for sure that God loves me? And how should we express this love to other Christians and to the world? We will be looking at all these questions, with time for discussion and prayer.
DATES:
Thur 26th Feb    The Origin of Love
Thur 5th March    The Proof of God's Love
Thur 12th March    A Love that Changes Sinners
*Wed 18th March   A Love that Binds the Church
Thur 26th March   A Love that Changes the World
[* NB the change of day!]
TIME: 7.30pm (till about 9.00pm)
VENUE: Burley Hall, Waverton.
ALL WELCOME!
Christmas services 2014. Please do join us for during this special season of Christ's birth, when God came to earth as a man:-
Sun 21st Dec, 10.15am: Nativity Service
Sun 21st Dec, 6.30pm: Traditional Nine Lessons and Carols
Christmas Eve (Wed 24th), 4pm: Crib Service.
Christmas Eve (Wed 24th), 11.30pm: Midnight Holy Communion
Christmas Day (Thur 25th), 10am: Family Holy Communion
Harvest Supper – Saturday 4thOctober    This event is always very enjoyable in the past, the food is always tasty and the company is very pleasant. Sign up at the back of the church,
Safari Supper – Saturday 6th September.
The last two Safari Suppers have been such a success we're doing it again! Safari Suppers are a great way of getting to know people better in the church family and enjoying a great evening of food and fellowship, moving to another venue for a different course. This year it will be on Saturday 6th September. Tickets £6. Do sign up on the sheet in church if you would like to come as a guest, or if you would like to host a course (or both!).
Rectory Garden Party – Friday 20th June,  6pm.
All welcome to this year's Garden Party. Lots of fun and games, face-painting, bouncy castle, stalls, activities, food and refreshments. Entrance fee (profits to favellas in Brazil and St. Peter's). We hope you can join us.

Light and Life Party: Thur 31st October. A light alternative to halloween. Lots of fun, activities, craft and a talk for children from Reception to Yr6. Venue Burley Hall. Time: 6.30-8pm. Tickets £4.50 per child. Please contact one of the people named in the poster.
Due to low and unsustainable numbers, it is proving difficult to maintain the Youth Group. Hopefully we will be able to pick up again. But till then we've had to hit the 'pause' button. Instead to cut our cloth accordingly there has been some interest in a relaxed time of Family Prayers (including some songs and a short thought from the Bible, and time to chat or play a game afterwards). The invitation is open to anyone to join us at the Rectory for a prompt start at 5.30-6.30pm on a Sunday evening (except the 2nd Sunday of the Month). I hope you can join us, Jules.
Saighton@4 has started again. It takes place every second Sunday of the month at Saighton School (in the new classroom) at 4pm. Singing, activity, craft, short talk, refreshments! All welcome.
If anyone is interested in getting baptised or their child baptised then contact the Rector, Jules, for further information. We are planning a special baptism service at Bruera on Sunday 3rd November at 11am.
We can now announce that we are now running a small youth group for 11-18 year olds at the Rectory on Sunday evenings during term time (7.30pm-8.30pm). This will include a short time of Bible Study and prayer followed by some home-grown entertainment (music, sporty fun, films, etc). Please let Jules or Julia know if you'd like to come on 01244 336668. All welcome.
On Wednesday (May 15th) St Cecilia Singers will be performing "A Celebration of Sacred Music over Five Centuries" at St Peter's Church at 8pm. Tickets £10 (£7 concession) available at the door. All welcome.
Postcards of the church (showing the same picture as the one on the right hand column) are available from the back of church for 50p, or £2 for 5.
For the Cantique Chamber Choir concert on Saturday evening, see here.
"The Tides of Church History"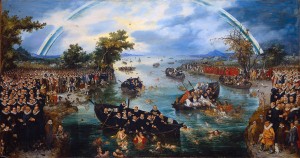 Our series of Lent talks on "The Tides of Church History" (a history of the Church from AD30 to the present) is now finished. You can listen to the talks here (just click on 'filter' and then click "Church History AD30 to the Present"):
1. The Early Church (30-500): Orthodoxy or Heresy?
2. The Mediaeval Church (500-1500): Faith or Reason?
3. Reformation in Europe (1500-1700): God's Grace or Human Effort?
4. Reformation in England (1500-1700): Canterbury or Rome?
5. The Modern Church (1700- present): Global or Colonial?
This term… the Rector will be running Confirmation Classes on Sunday evenings (7.30-8.30pm) from 20th January for anyone who would like to be confirmed. All are welcome, and attending classes does not commit you to getting confirmed if you decide not to. Do chat with Jules if you are unsure, or see our Confirmation page for further details.
Monday 17th Dec. A special thank you to Richard Morgan-Jones and the choir for helping create a wonderful atmosphere and time of Christmas worship at our Carol service last night. The quality of the singing was outstanding. And it was lovely to see so many people there.
Remembrance Sunday 11th November 2012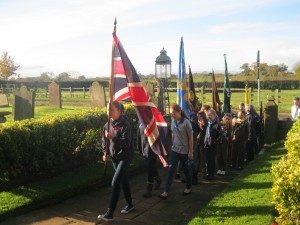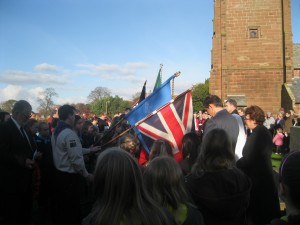 Thank you to everyone who attended and took part in this year's Service of Remembrance. Yet again, it was an amazing turnout with the church packed full! (And the power cut only added to the occasion!)
It is one of those rare occasions in the year when the whole village comes together formally. The conduct of the uniformed organisations once again gave the service just the right level of reverence and solemnity.
Revd Jules Beauchamp