Saighton@4 is no longer running until further notice. 
Saighton@4 takes place at 4pm on every 2nd Sunday of the month in the new classroom in Saighton Primary School. We'd love to see you!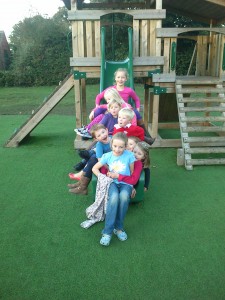 Who is it for?
All are welcome! Particularly we are encouraging a number of young families through our connection with Saighton Primary School. But it will also suit all those who prefer a modern outlook to worship. The atmosphere is welcoming, informal and relaxed, but still with a focus on God. We want to include a variety of music (including songs from school, contemporary music and a few classic hymns too!), some prayer, interaction, activities, a short talk, refreshments and time to chat afterwards.
From time to time parents ask about baptism (or 'christening') for their child(ren). There is no age restriction. So if you are interested in getting your child baptised then please contact me on 01244 336668, or come to S@4 and speak to me there.
Do join us! We would love to see you!
Jules (Rector of Waverton with Aldford & Bruera)
Dates:-       
2013  Sept 13th, Oct 11th, Nov 8th, Dec 13th
"Saighton @ 4" has the full support of Bruera PCC and the School Head.