St. John the Baptist Aldford: New and Events 
The next messy church is on Sunday 22nd April from 3-5pm! Meet in the Aldford Village Hall. Crafts, activities, songs, tea! All welcome!
The main thing to highlight is the important changes to the service patterns. With the prospect of reduced manpower in the near future, the 3 churches in the Benefice have sought to rationalise service times to allow us to cover all the services (especially for an ordained minister to officiate at Communion).  The greatest change has been the service time at Aldford which from the beginning of August will change from 9.30am to 10.15am. Although we recognise that this time will not suit everyone, we hope that it will be the most popular time for most – and especially for families and those who travel any distance.
As you may know, my colleague Revd Nic Deane, who has been serving in Aldford and Bruera for the last 4 years or so, is retiring in September. He and Kathryn have been true servants of Christ to us all in so many ways. I am personally very grateful to both of them for the wonderful ministry they have provided under God. They have brought much wisdom, friendship and laughter to the parishes. We wish them the very best in their retirement as they move closer to family members in Nottingham. [See Associate Minister Vacancy]
With every blessing and my prayers for the welfare of the villages,
Revd Jules Beauchamp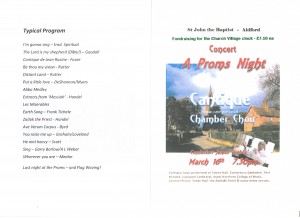 There's still a chance to buy tickets for the "Proms Night" concert at St John's Aldford THIS SATURDAY at 7.30pm. All are welcome! Tickets are £7.50 (includes a free glass of wine). Children free. The Cantique Chamber Choir are an outstanding choir. Cantique have sung in Canterbury Cathedral, York Minster, Liverpool Cathedral, Speke Hall, the Adelphi Hotel… a wide range of music – spiritual and shows, classical and modern, with excerpts from Les Mis and Mama Mia (Abba), Ave Verum and the Hallelujah chorus, and the Last Night of the Proms [click on photo to see details]. This evening will be sure to lift the spirits. Be prepared to sing along. And don't forget to bring your flags to wave! Don't miss a wonderful evening. Tickets available from Nic Deane (01244 620281).
During Lent Nic will be hosting a series of talks and discussion looking at the Beatitudes and prayer from Matthew's Gospel. These will take place in the Parish Room at 10.30am on Wednesday mornings starting on Wed 20th Feb (for 5 weeks). All welcome. This will be especially for those who cannot make the evening talks at St. Peter's Waverton for the Lent Addresses ("The Tides of Church History") at 7.30pm.
Revd Nic writes
Dear Friends, "Why not try praying?"
We stand on the threshold of another year! "Just more of the same," says one person. "I don't know how I will face another year like last year," says another. "I've no worries, the future lies open before me," says a young hopeful go-getter, flushed with enthusiasm but with no experience of failure. "I have so many hidden issues that I wouldn't tell anyone about – I'm quite scared when I think about the future," confides another. As if from nowhere, the thought comes, "Why not try praying?" But someone might say, "How could I ever do that – I'm not even sure there is someone to pray to, anyway? I'm nowhere near church-going at the moment and would God, if he's there at all, listen to me?" Kathryn and I have a friend who started a movement for anyone and everyone who feels a bit like this. He and his friends produced the trypraying booklet as a 7-day prayer guide that is now being used by many to pass on to friends and family with a few words of encouragement – 'Why don't you try praying for a week and see what happens in your life?' There has been a remarkable response to this suggestion in Edinburgh, Scotland, and elsewhere as an invitation to anyone to start seeking to engage with God. Many remarkable stories have come out of their offer of that little booklet. Their trypraying booklet ** was not written for Christians in the first instance. It is unapologetically for those outside the church: the irreligious and the self-respecting agnostic! It contains stories of answered prayer, ideas of things to do, important themes about how to connect with God and honest prayers. In essence it is an outrageous exposure to the grace and power of God. It is so well worth a read and you can receive one free. I would love to give a copy to anyone who would like one. Just ask me for one when you see me around or give me a telephone call!
So, at the threshold of this New Year, "Why not try praying?" There really is Someone who says, "I know the plans I have for you, plans for wholeness and not for evil, to give you a future and a hope." (Jeremiah 29:11) We may not know the future but, if we sincerely seek God (again Jeremiah 29:13 assures us) we can come to know the One who does know the future and who can hold us and the future in His safe hands – if we only try praying.
With warmest wishes and prayers, Your friend and Vicar, Nic Deane
** If you like Internet connections our friend's web site is: www.trypraying.me.
Once again the Christingle Service was well supported on Christmas Eve. Thank you for your contributions. For over 40 years The Children's Society Christingle has been a key part of celebrations within churches and has raised essential funds to support the charity's work with vulnerable children and young people across the country.with options at all levels so young people have a better chance in life. If you would like a collecting box to bring to next year's Christingle please contact Ruth or John Clarke.
Saighton @ 4!
A new informal service at Saighton Primary School takes place at 4pm on every 2nd Sunday of the month. Welcoming, informal and relaxed, with activity, a variety of music, prayer, interaction, a Bible Talk pitched at all-ages relevant to life today. We finish with refreshments and time to chat. All are welcome! Especially young families! Do join us! Revd Jules Beauchamp (Rector of Waverton with Aldford & Bruera)
Click here to see a video of the summer BBQ: Nic and Katherine's Summer BBQ
Village News
Silver & Gold
Information from Ethel Cummins tel 01244 620344
Meetings: ALTERNATE Fridays COMMENCING Friday Jan 4th
We hope you are feeling better Ethel
BINGO AT ALDFORD 2013
MONDAYS Feb 4th (Bowling Club) Mar 4th (Rosebuds & Stooges) Apr 1st (Silver & Gold) EYES DOWN 7.30PM
Did you know? Tea was first used in England in 1698.In 1884 it was written" Tea is all examined now by the Customs authorities before duty is allowed to be paid upon it; it is therefore practically pure. This was only done about a year ago"
A church clock has served Aldford for MANY YEARS .The time has come to make our church clock easier to maintain, with electronic movements . Thank you to all who have made donations thus far. If you wish to contribute please pass your donation to Nic, The Churchwardens or Derek.